Nichole & Tim's Wedding
Earlier this month, GALA Magazine released it's annual issue and our 2010 wedding was one of three that were featured. I gotta say I was pleased as punch to see our wedding in print!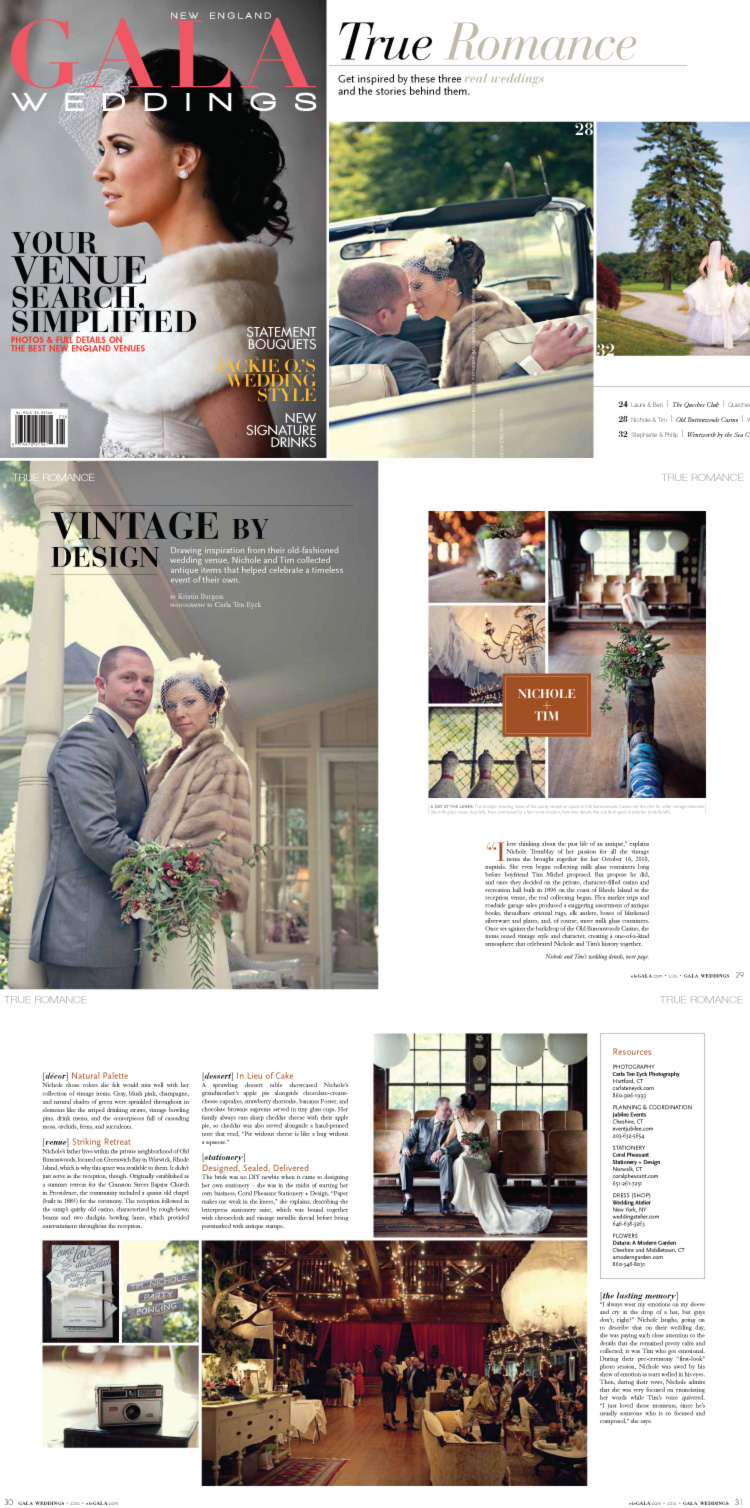 In two previous posts I wrote about the area where we were married and then about some of the projects we took on in planning process. Today I share with you the main event! This post is a long one and I hope you'll stay with me 'till the end. All of these pictures are near and dear to my heart and I am incredibly grateful to have had Carla Ten Eyck capture them. Seriously, her work is unparalleled. Talent and kindness and humor to the nth degree all wrapped up in one pretty package. It's her fault this post is so long!
We were married in the charming neighborhood of Old Buttonwoods in Warwick, Rhode Island and all of our events took place within walking distance of each other. Below are images of us prepping for the day ahead. Tim's Dad belly-laughing and my cute nugget of a niece are two of my faves. Shout out to my college roomie, Melissa, for creating the cartoon drawing of me and Tim – a gift I gave him that morning. It features the two of us surrounded by things that have meaning to us: persimmons, wine, cheese, antlers, meat sweats (!)

We popped over the the Casino (yup, we walked there!) and had our first look on the bowling lanes. Tim was wearing his heart on his sleeve that day and his tears made my heart melt. In remembrance of my mother, I tied a locket and her gold wedding band to my bouquet. I had worn her ring every day for the past six years only taking it off on this day when I would later receive my wedding ring from Tim.


Tony from Datura: a modern garden was the flower and foliage extraordinaire on hand that day. The only direction we gave him was to create a woodland vibe that included succulents ( I ADORE succulents!), interesting foliage, ferns, branches and orchids. And Queen Anne's Lace. My mother loved Queen Anne's Lace. She would tell me that while most people considered it a weed, she chose to see it as a flower growing in the wrong place. My bouquet included a patch of Queen Anne's lace, placed at the top where I could see it.
After our first look, we hopped on a golf cart – the preferred mode of transportation for peeps who live in the neighborhood! – and took photos on tandem swings. The swings hang from the oldest Buttonwood tree on the peninsula.


Sidebar story #1: In July of 2009 Tim and I headed to upstate New York to celebrate my grandparent's 60th wedding anniversary (that's a long time!). Unbeknownst to me, Tim had decided that this would be a good opportunity to ask my Dad for his blessing to propose. Durning the anniversary party, the two of them stepped outside and Tim was about to ask my Dad when he glanced down at my father's shoes and was instantly distracted. "Dave", he asked, "are you wearing two different shoes?"
"Um, yeah. I guess I am. I grabbed two black shoes out of the closet and put them on. Good thing I got a left and a right! Don't tell Nichole." It was too good a story not to share so of course I was let in on the mistake. Dad was none too pleased when I snapped that picture on the above left!
Sidebar story #2:  Tim and I were with team Ten Eyck taking pictures on our wedding day and my father held my bouquet while we posed at the swings. When I went to retrieve my bouquet I noticed my Dad was wearing two watches! Apparently, while getting dressed for the wedding he put on his dress watch and forgot to take the other one off. Ha! This time, the professionals were on hand and they took the photo above right. Should I be scared that he'll follow in the steps of my Gramps and use rubber bands to keep his socks up? They say the apple doesn't fall from the tree. Only time will tell!


The wedding dress chandelier we created was major eye candy at our reception. My father rewired an aban­doned brass chan­de­lier and hung it from an over­head beam. That week while scour­ing thrift stores for fin­ish­ing touches, we found a vin­tage white tulle wed­ding gown that made for a per­fect "lamp shade". With some wire, safety pins and more tulle (yes, even more tulle!) a beau­ti­ful wed­ding dress light instal­la­tion was cre­ated. It was stun­ning against the wooden beams and a real show-stopper!


Tag sale elk antlers in all their glory! How sweet is the vintage Louie luggage with our Snug-as-a-Bug blankets? Candice of Jubilee Events scored that beaut on a trip to the Brimfield Flea.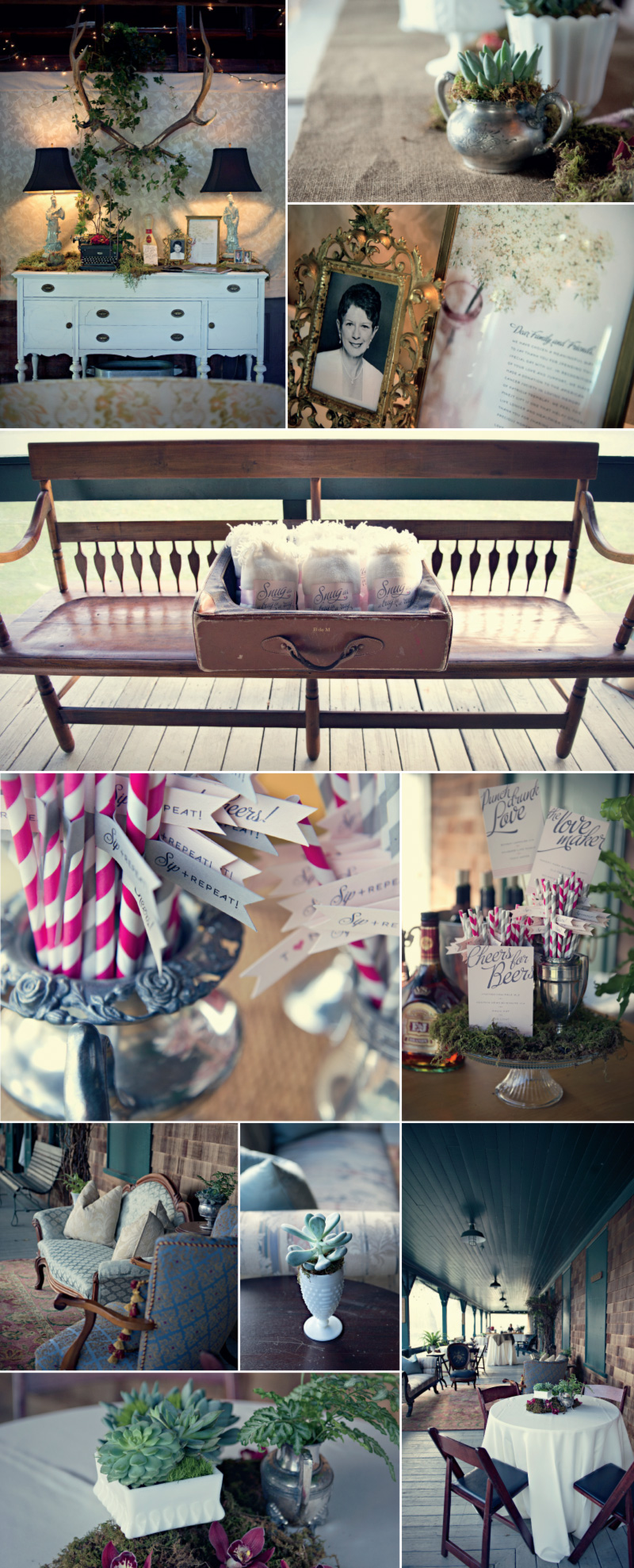 Our dessert table was a hodge-podge of baked goodness that we adore – miniature bananas foster, strawberry shortcakes and chocolate brownie sundaes served in shot glasses – as well as homemade treats. My grandmother is a fabulous baker. Her two signature recipes are chocolate and cream cheese cupcakes with chocolate chips and apple pie. She offered to bake these delicious desserts for our wedding and I loved sharing her treats with all of our guests. We chose to have her apple pie as our "wedding cake". The pie plate itself belonged my great grandmother and the milk glass pedestal belonged to Tim's grandmother. The sign on top of the domed cheese plate reads:  "A pie without cheese is like a hug without a squeeze."  – my family's mantra when it comes to eating apple pie!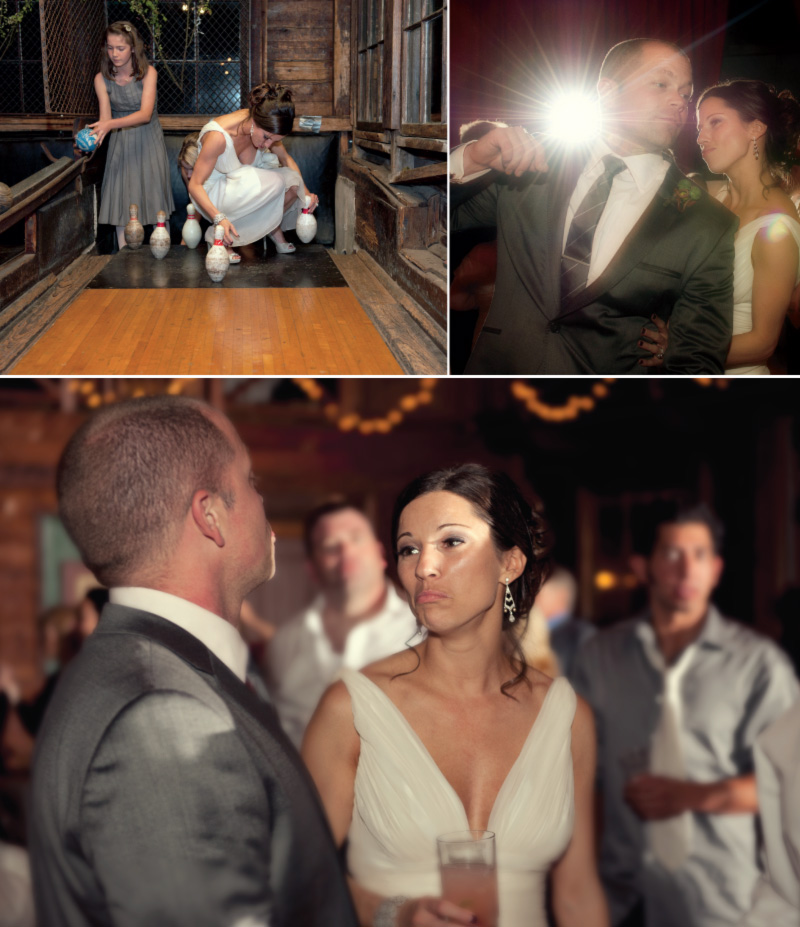 We dined, drank, danced, bowled and celebrated until our bellies and hearts were full. Sadly, all things must come to an end. We are forever thankful that we have amazing pictures (thus the crazy length of this post) and a stunning video that we never tire of filmed by a master of the craft, Jim of Vintage Cinema.
A shout out to all of the vendors (who I am lucky to now call my friends) who helped make our day the best eva:
Photography: Carla Ten Eyck // Flo­ral Design: Datura, a mod­ern garden // Video: Vin­tage Cinema // Coordination: Jubilee Events // Custom Veil: The White Dress by the shore // Invitations: Coral Pheas­ant Stationery //  Catering: Russel Morin // Hair and Makeup: 2 Kiss and Makeup // Officiant: Victoria Burdick