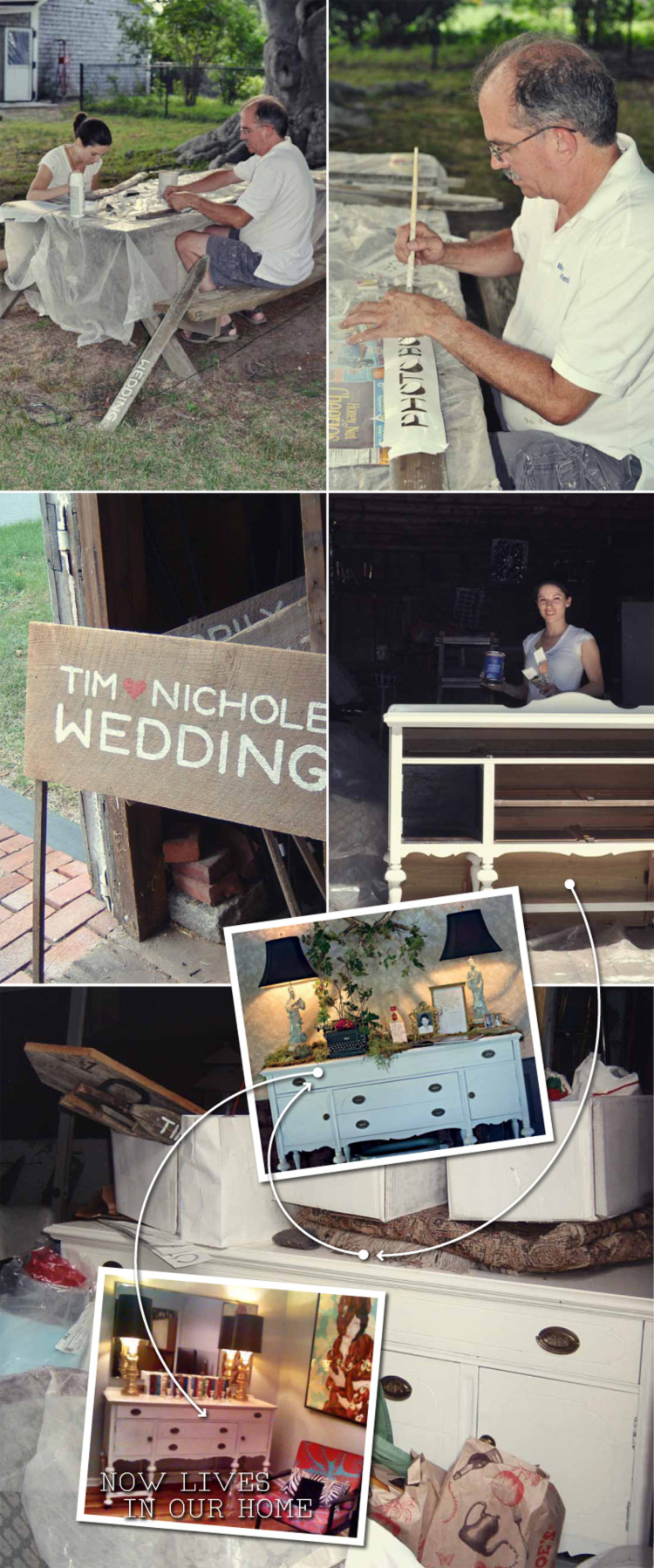 Reliving our Wedding: Part 2
Back in July I wrote a post about the history of our wedding venue – and promised future posts in the following weeks about the planning of our big day. Clearly weeks have turned into months and I decided it was high time I delivered an entry before 2012 arrives. In the original post you can see a video of the raw reception space. The snapshots that follow document the plethora of projects we tackled in the months leading up to our October 2010 wedding. To say that I loved planning every detail of our wedding is a major understatement. It was like one big art project – my largest to date! And to have our families help contribute and orchestrate it made it that much more special.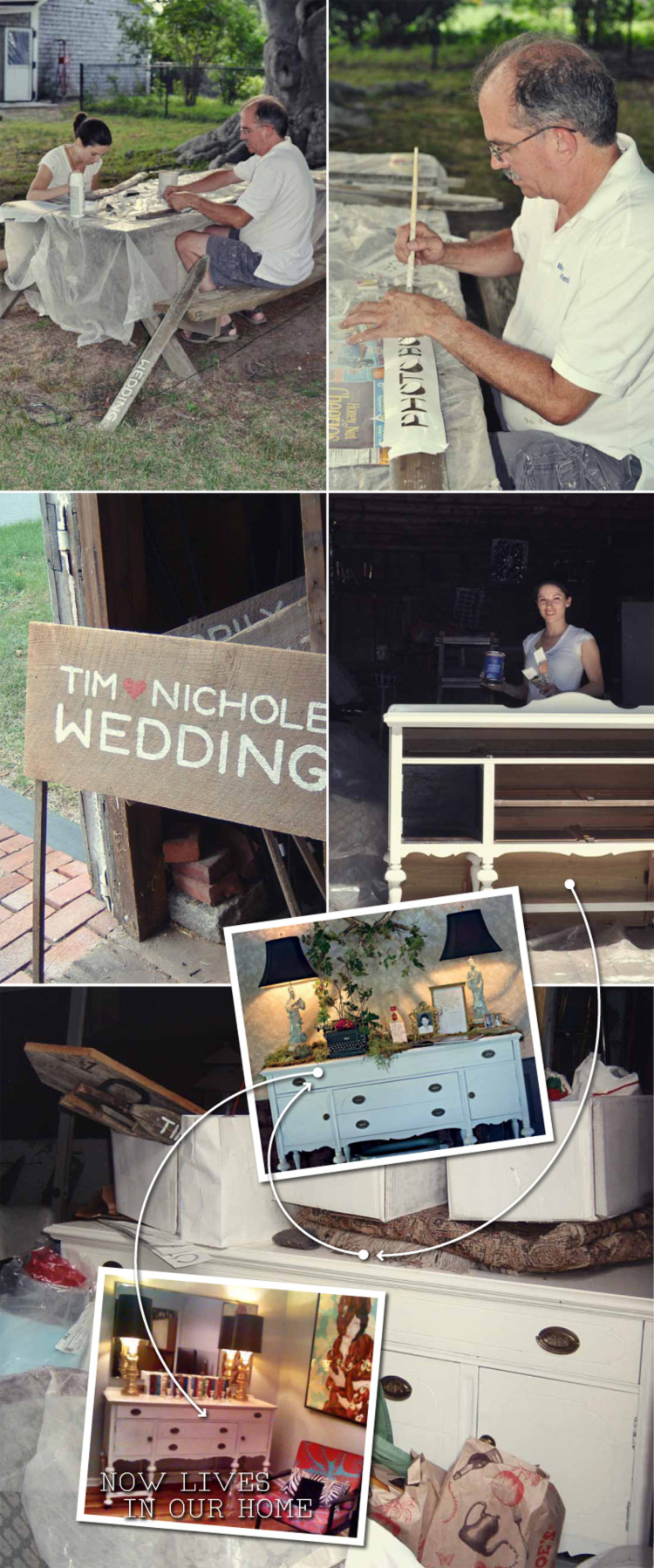 My father and I stenciled pieces of an abandoned picket fence to make signs and my husband, brother and I painted a consignment store buffet that we used to display our guest book and other mementos. Afterwards, we found a permanent home for the buffet in our living room, a sweet daily reminder of our wedding day.
Each Fourth of July, we head north to my grandparent's home in upstate New York. While there the summer before our wedding, more projects were checked off the list. My aunt and I gathered rhubarb from my grandparent's garden to prep the punch that would later become a main ingredient in one of our signature cocktails. The rhubarb punch recipe was originally thought up by my aunt the year prior when she made it for my grandparent's 50th wedding anniversary celebration. It seemed only fitting to serve it as we celebrated our first day of marriage. We also practiced making miniature versions of my grandmother's signature chocolate cream cheese cupcakes. These petite delights would be part of our dessert display along with my gram's other claim to fame: apple pie.


During our time in upstate New York, we had the good fortune of driving by an interesting tag sale. A tag sale where a hunter was selling his trophies – not a sight you see very often! It was my husband, Tim, who whipped the car around after spotting massive Elk antlers. As a lover of all things taxidermy, I was thrilled when Tim suggested we buy them to use as wedding décor. Purchasing them was the easy task, fitting them into a two door coupe, not so easy.  We drove home 8+ hours with the antlers poking out the sun roof while the other half was positioned directly in front of my chest. Thankfully, Tim's deft driving skills prevented the horns from impaling me!
The week prior to our wedding, both of our families arrived from out of town and helped to set up our reception site. We worked for days to bring in all of the elements: cafe lights were strung from the rafters, threadbare oriental rugs were laid on the hardwood floors, vintage furniture was arranged to create cozy seating areas. Every single piece of décor was brought in to transform the century-old tennis casino.
The pièce de résistance was the chandelier installation. My father rewired an abandoned brass chandelier and hung it from an overhead beam. That week while scouring thrift stores for finishing touches, we found a vintage white tulle wedding gown that made for a perfect "lamp shade". With some wire, safety pins and more tulle (yes, even more tulle!) a beautiful wedding dress light installation was created. It was stunning against the wooden beams and a real show-stopper!

Up next, I'll share with you the images from our wedding day captured by the crazy-talented and dear friend Carla Ten Eyck!