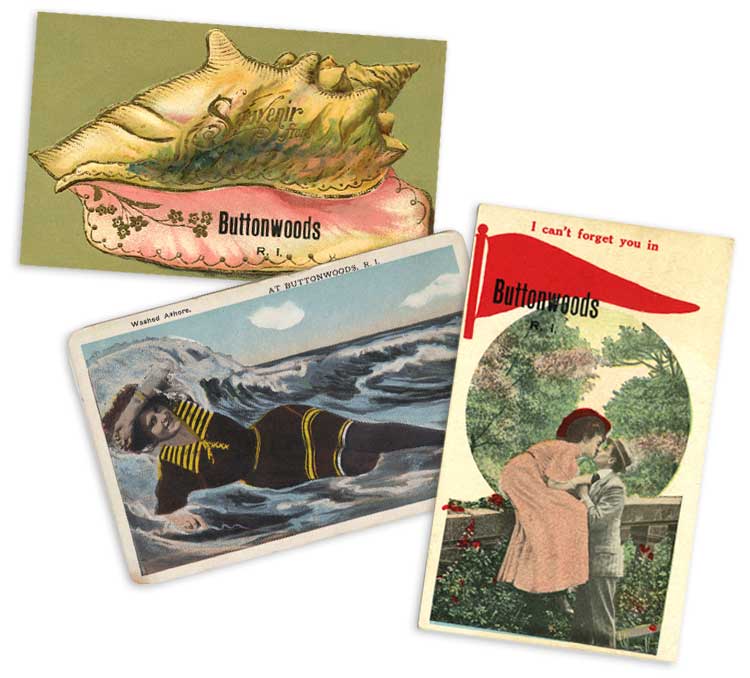 Reliving our Wedding: Part 1
Recently I've been wrapping up invitation projects for brides whose weddings will be celebrated this Fall. I can't help but feel a little envious of them. Envious because they are full of anticipation and excitement for their upcoming nuptials. I absolutely adored planning our wedding and this time last year I was knee deep in finalizing all sorts of details for our October 16th wedding. If I could push the repeat button I would do it in a heartbeat – and plan the whole thing over again. And I would plan the EXACT same wedding. To be a total cliché: the day was magical. There will never be another day like it. Cherished friends and family, great food, custom cocktails and so much prettiness it made your eyes hurt. (Clearly, I am biased. But just you wait for the photos!) Did I mention there was duckpin bowling? And a chandelier made from a vintage wedding dress? And elk antlers (before antlers got all hipster on the wedding scene)? Just sayin'.
Here's what's gonna happen over the next few weeks: I'm going to relive the planning and I'm inviting you along for the ride. Be warned – I planned this bitch like it was my JOB and I was O.O.C. (That's out.of.control. for those not in the know.) I'm taking it back to the way beginning of our planning and have a video to share with you all at the end of the post. But first a little back story. The decision of where to marry eluded us for some time, given that Tim's family is in Wisconsin and my family is spread out over several states. We ultimately decided to marry in my hometown of Warwick, Rhode Island. The reason was twofold. I wanted to be close to our wedding location so that I could be completely hands on in designing our wedding. The second reason was the freedom we had in decorating the spaces, the history of the buildings and their proximity to where my father lives and the ocean.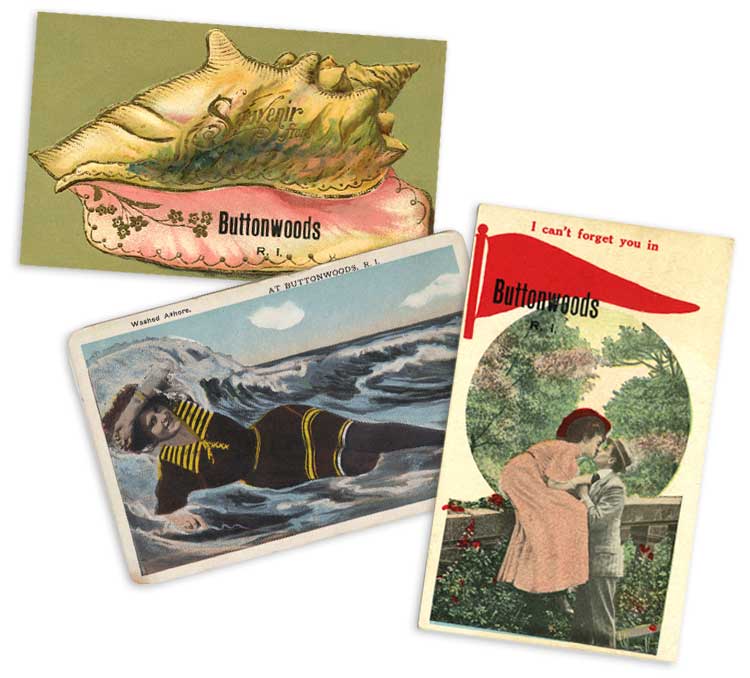 Several years ago my father began dating a woman, Tomi, and has since moved in with her. Her home is located in the charming private neighborhood of Old Buttonwoods in Warwick. Old Buttonwoods, named after the Buttonwood Tree that was once seen everywhere on the peninsula, is a private community established in 1871. The area was developed as a Christian summer resort modeled after the Methodist campground on Martha's Vineyard; the locale has a picturesque view of Greenwich Bay. Construction of cottages on the Beach Association's grounds was closely regulated, making it an exclusive area. The neighborhood contains many fine Late Victorian and early 20th-century cottages in the Gothic Revival, Carpenter Gothic, Queen Anne, Shingle, and Arts and Crafts bungalow styles. The house that my father and Tomi live in was built in 1885. It is a pale pink Queen Anne Victorian with gingerbread trim and a wraparound porch.
What's with all the history you ask? My father is a history buff and tremendously enjoys gathering information and learning about people and places that are important to him. After moving to the Old Buttonwoods neighborhood he decided to write a book about the area. All of the info here is from his research. The apple doesn't fall far from the tree when it comes to appreciating the past!
Across the street from their home is the Chapel of Old Buttonwoods, built in 1884. The tall 1-story, gable-roofed structure has a circular, conical-roofed bell tower on one side. The tower is decorated with a band of carved garlands and swags. A large Palladian stained-glass window at the front of the chapel screens a recessed porch. Inside, individual hand-caned chairs are lined up in rows and an oriental runner forms the aisle. In the 1910 postcard below, my father and Tomi's home can be seen in the background.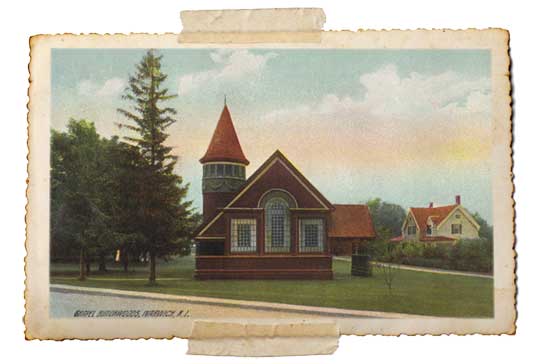 On the other side of my father and Tomi's home is the Tennis Casino, built in 1896. It is the second oldest tennis casino in the country, with the Tennis Hall of Fame in Newport, Rhode Island being the oldest. Inside, rough-hewn, dark wooden beams are scarred with countless initials of neighborhood children. A large red-curtained stage anchors one end of the building. A wide porch flanks the left side, while two duckpin bowling lanes run the length of the right side. This place oozes with character and the feel of a bygone time.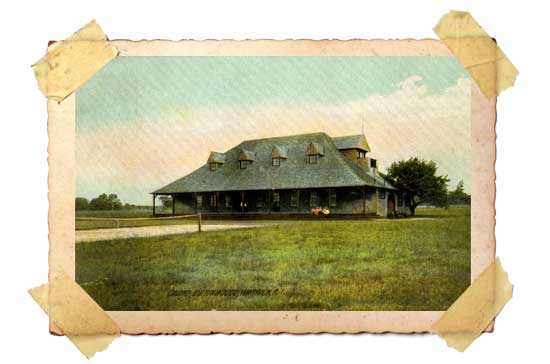 Ready to see it all as a moving picture?! Do note that the video below is a wee bit ghetto. Don't judge! Filmed by one of my BFF's and edited by me, this ain't no masterpiece but it paints a pretty good picture of what we were working with as we planned our fête. Here goes:
Music by Ray LaMontagne, You are the Best Thing. Major Ray fan! This song was our wedding recessional and we danced our first dance to Shelter.