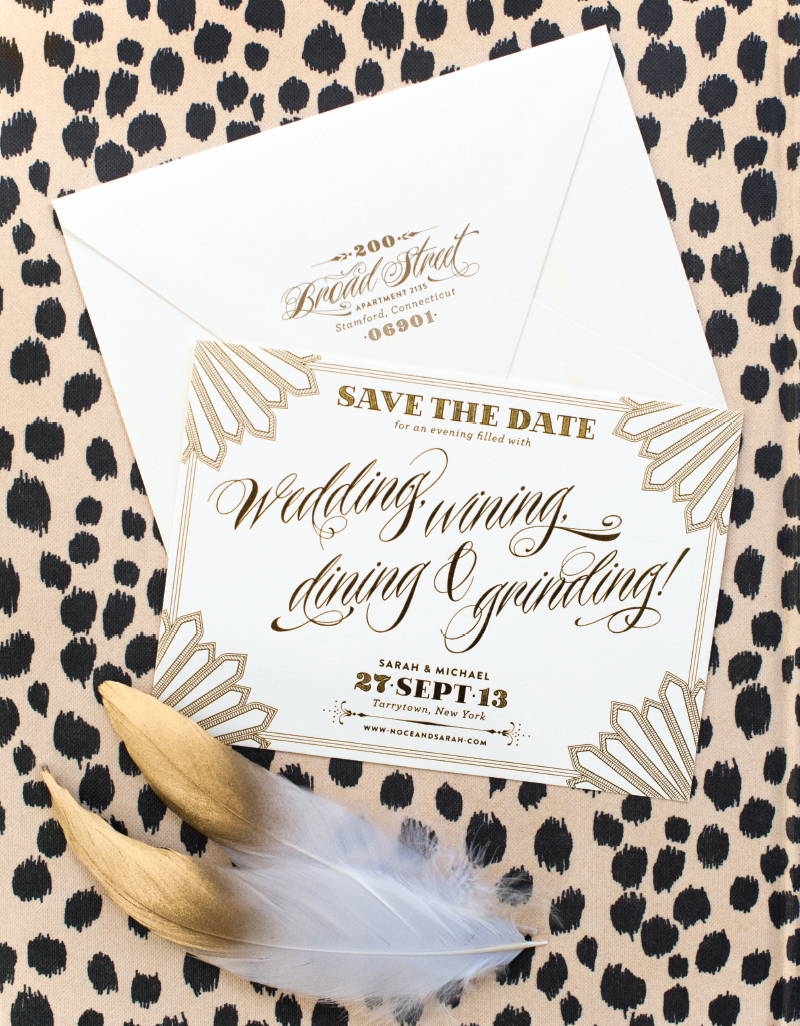 Unique Save the Dates
The weeks between Thanksgiving and Valentine's Day have become know as "Engagement Season". Everything's festive, everyone's focused on family — what better time for a proposal? And so with each new year, many couples embark on the path to become newlyweds. And what do many newly engagement couples need? A Save the Date to make sure their nearest and dearest know about their upcoming wedding!
Often there is a push to get them out as soon as possible and it can be overwhelming to make a quick decision. A tried and true option is to use a favorite photo – and that's great! Your friends and family will certainly know who's wedding is coming up! But if there's time to put a little more thought into your Save the Date, the result can be unique and memorable. Consider favorite memories and past times. Maybe you met in college or the two of you love sampling wines. Or if you have a solid sense of the celebration you are planning, take inspiration from that. Below are a collection of Save the Date ideas that break the mold and truly set the stage for a wedding not to be missed!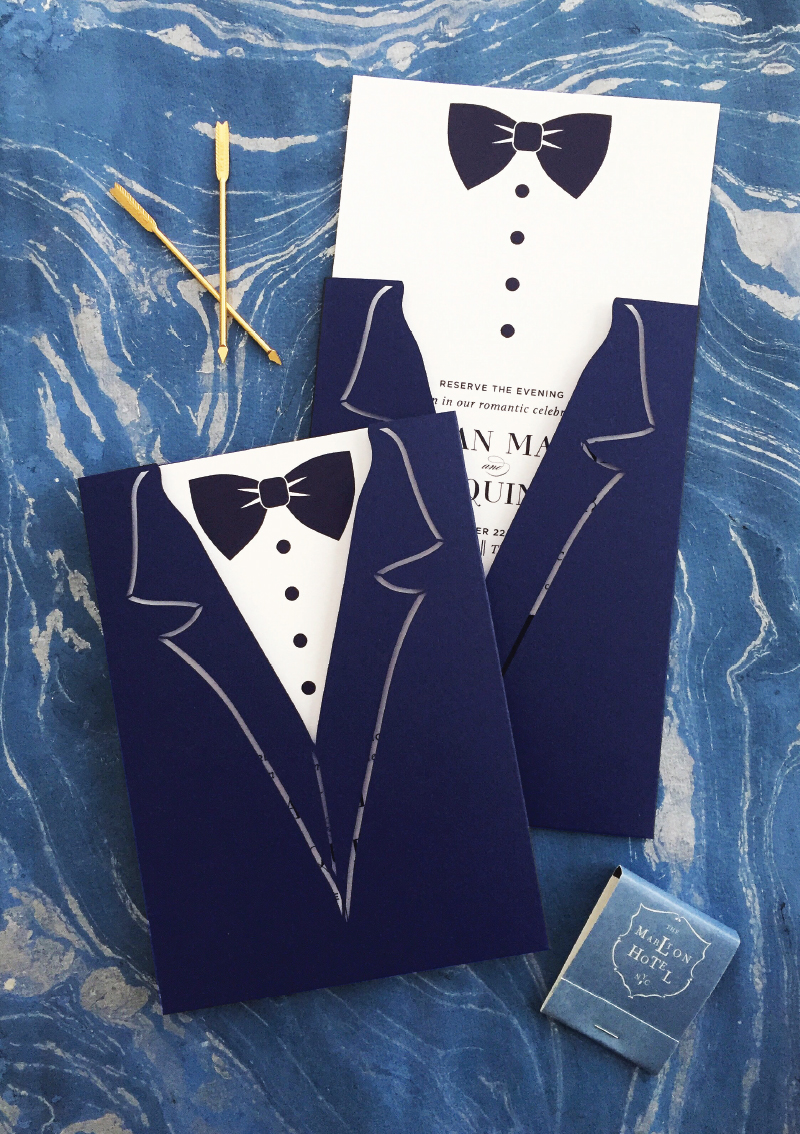 It's always a treat when a couple has enlisted the help of a seasoned event planner. Brendan and Ryan hired Diana at Jubilee Events to design and coordinate their upcoming wedding. Diana learned that Ryan, who works in fashion in NYC, was having a custom navy blue Tom Ford tuxedo made. A lightbulb went off and they had the idea to create a Save the Date inspired by the tux. When they shared the concept with me, I thought it would be a fun guest experience to be able to interact with the design. Here, the tuxedo is laser cut out of navy blue stock and the "shirt and bow tie" insert slides out to reveal the details of their day.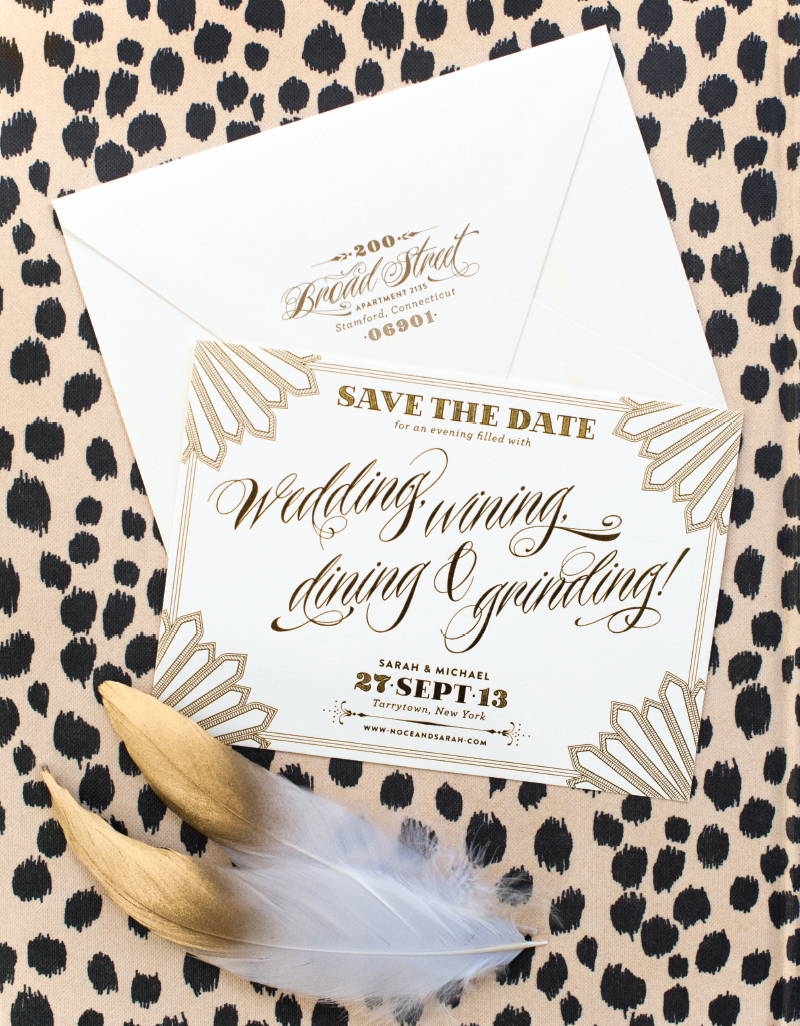 Sarah and Mike might just be the funniest clients I've had the pleasure of working with. Sarah's vision for her wedding was a gorgeous affair inspired by Hollywood Regency details with lots of shimmering gold. And hip-hop. They two of them love their music and certainly didn't take themselves too seriously. Their Save the Dates featured a strong typographic design with Regency details and slightly inappropriate language.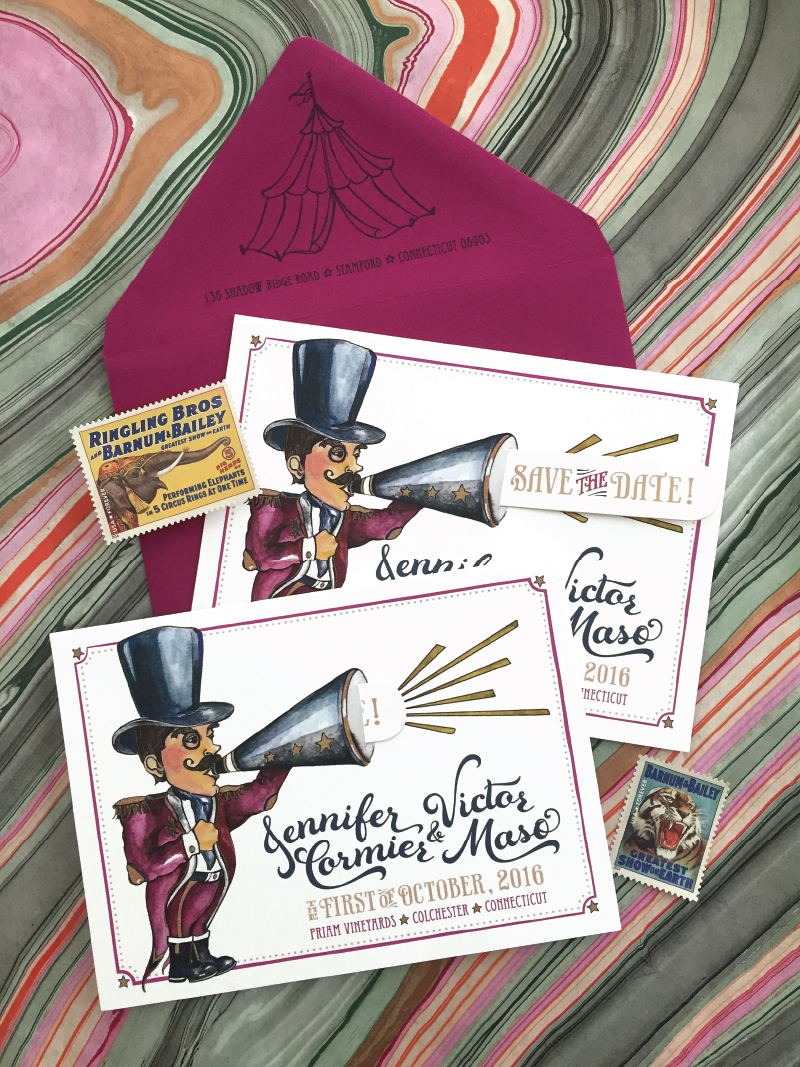 When your wedding is inspired by a vintage carnival, what better than to "announce" it with an illustrated pull tab Save the Date?! The custom illustration by Myrtle and Lloyd incorporates the wedding colors and a small slit in the megaphone allows for a tab that, when pulled, reveals "Save the Date!" The envelope was flipped upside down so that the circus tent above their return address fit sweetly onto the flap.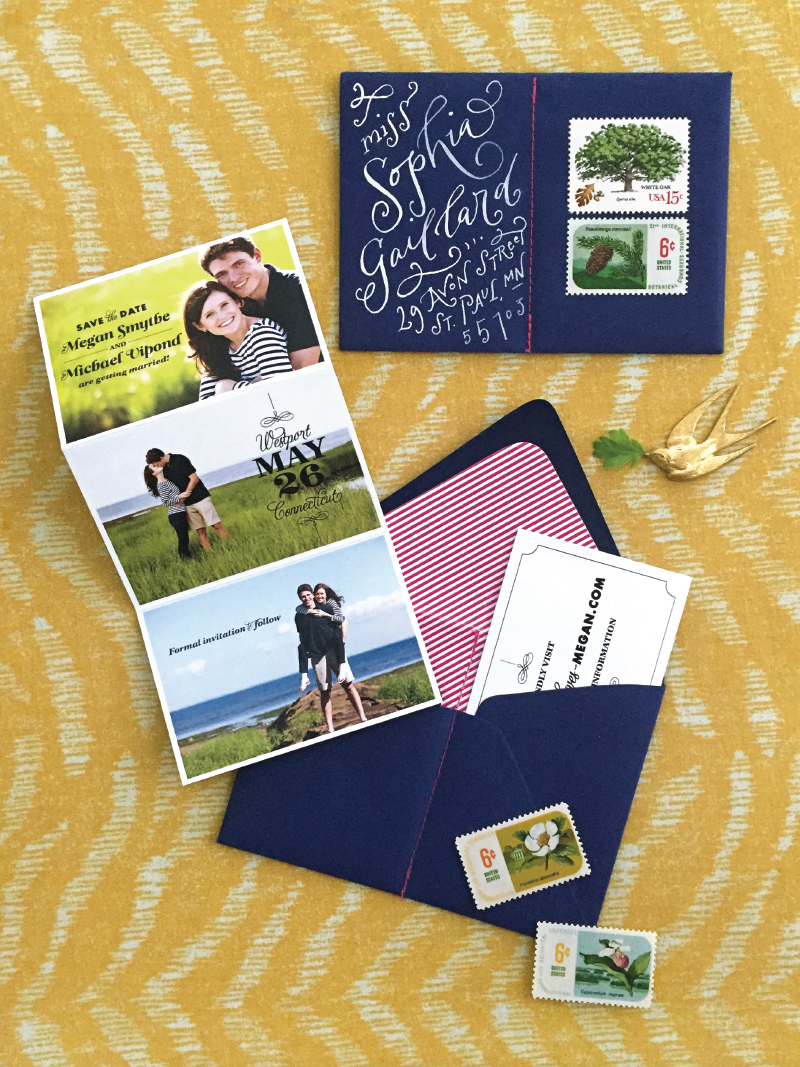 The first two examples of Save the Dates were clearly derived from the couple's individual wedding designs – but that's not always the case. It's perfectly fine for your Save the Dates to be unique and separate from your actual wedding. Megan and Mike wanted to use their engagement photos and I – always loving the chance to engage the guest – created a fold out card that showed several of them. The envelope was sewn in half to create two pockets. The photo card slipped into one side while the other pocket held a small card with their wedding website.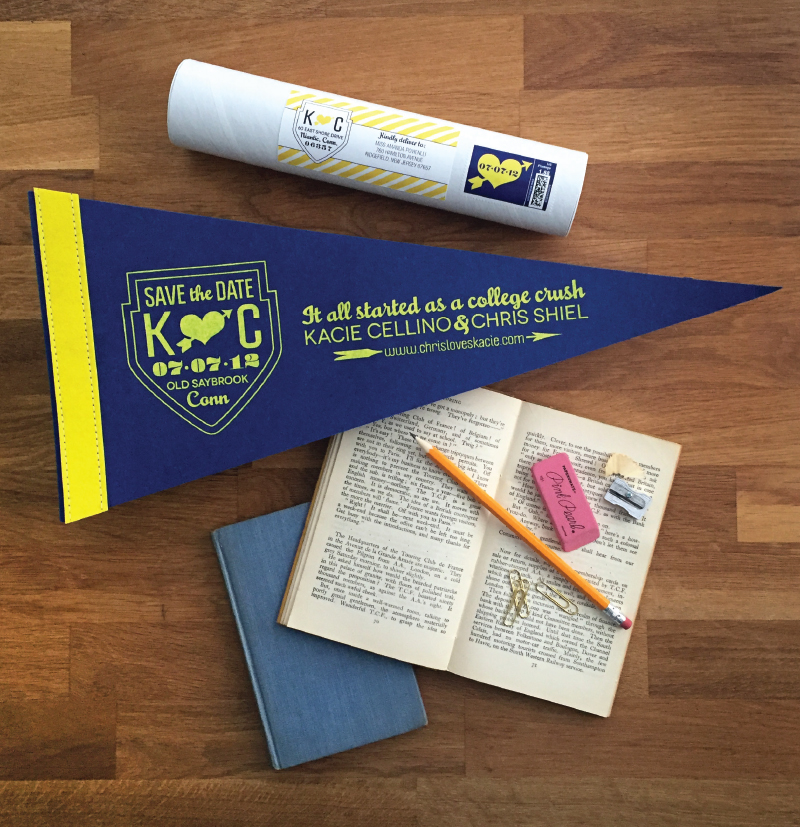 Kacie and Chris met and fell in love while students at Quinnipiac University. A custom pennant in the university's colors serves as their Save the Date. The pennant was rolled and mailed to guests in a mailing tube with a coordinating label and postage stamp.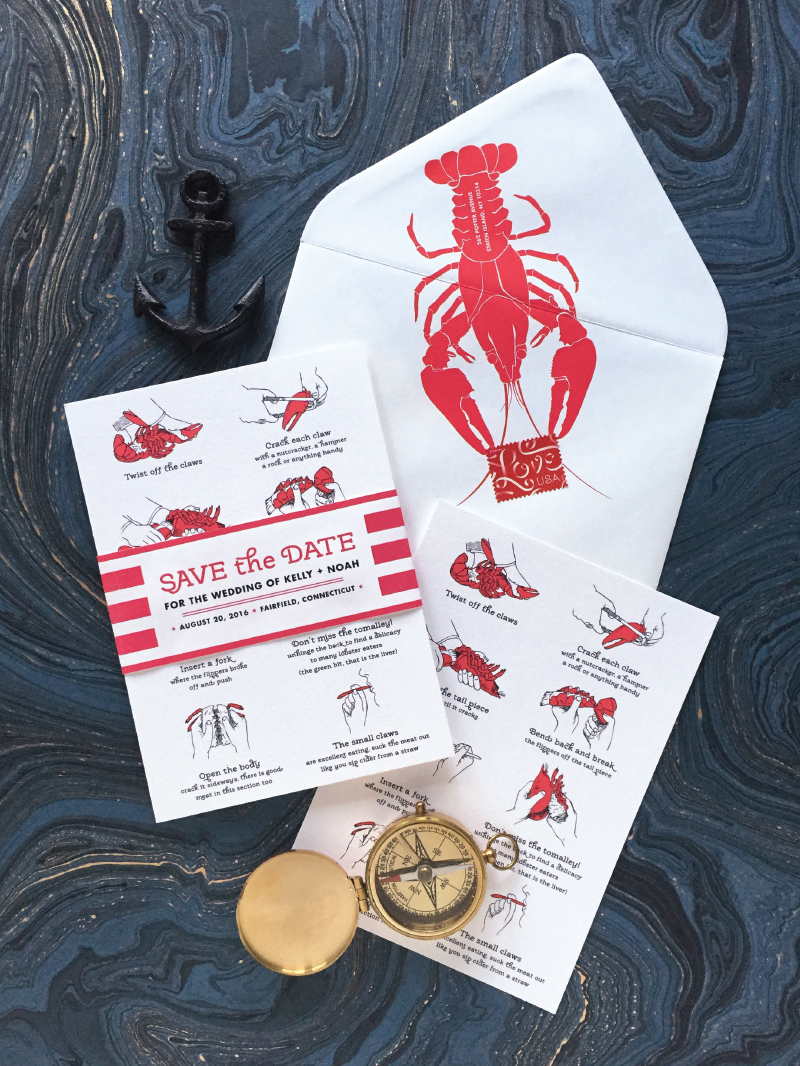 This casual clambake lobster fest wedding was announced with step-by-step instructions on how to chow down. Their upcoming nuptials certainly claws for celebration! (See what I did there?!)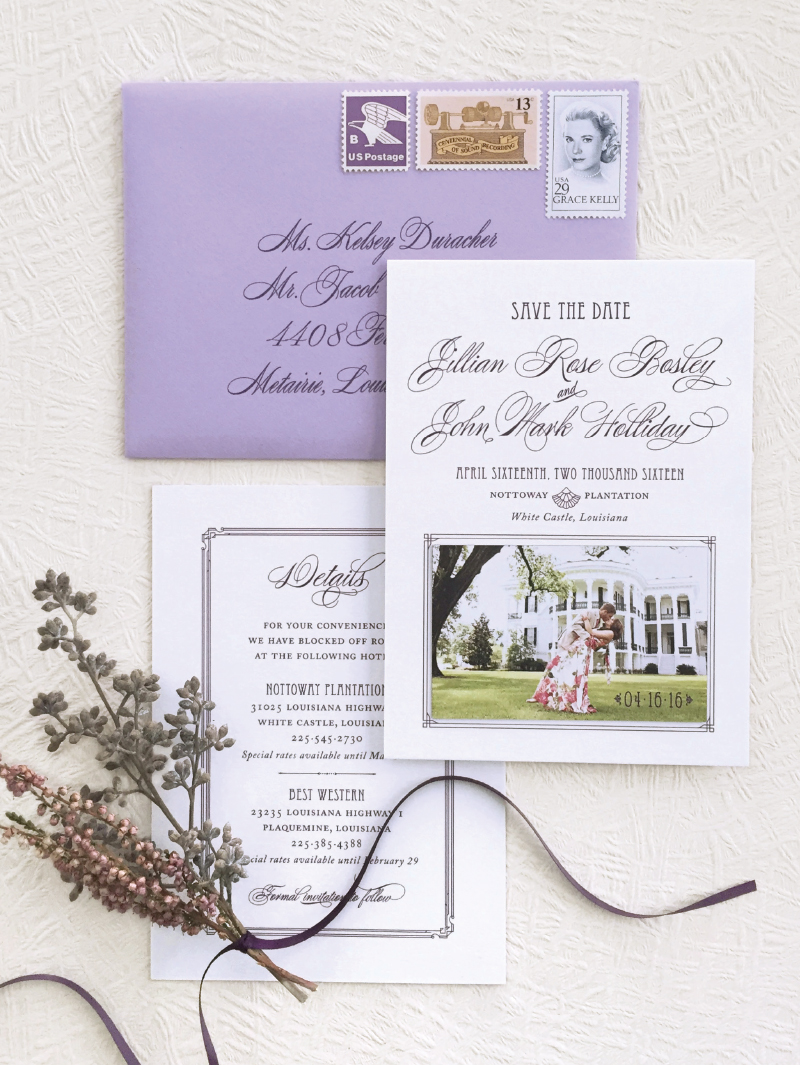 A new take on a magnet Save the Date. The announcement was printed on double-thick stock and the magnet was mounted within a printed frame.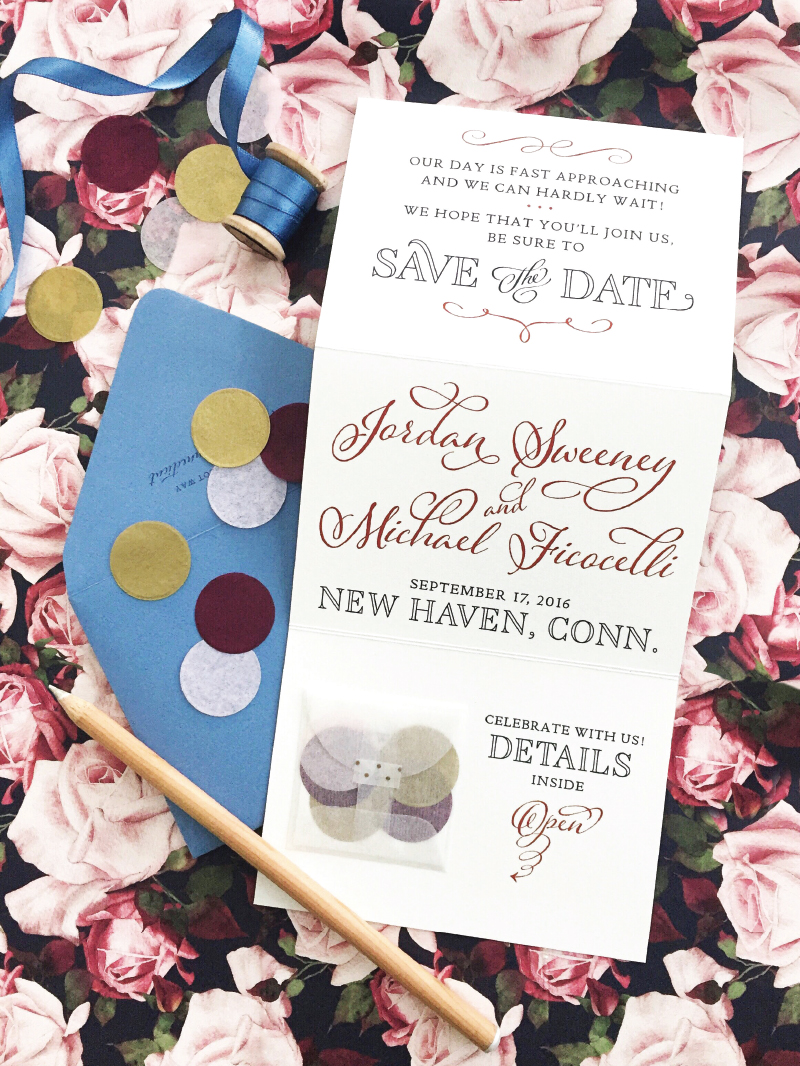 Jordan and Mike's rustic vintage wedding will be held at the bride's family home in September. Their trifold Save the Date unfolds to reveal the details and a little glassine envelope filled with coordinating confetti and a card with their wedding website. A vintage floral pattern in their event colors appears on the reverse (that's the floral pattern seen in the background) and hints at the event design dreamed up by Diana of Jubilee Events.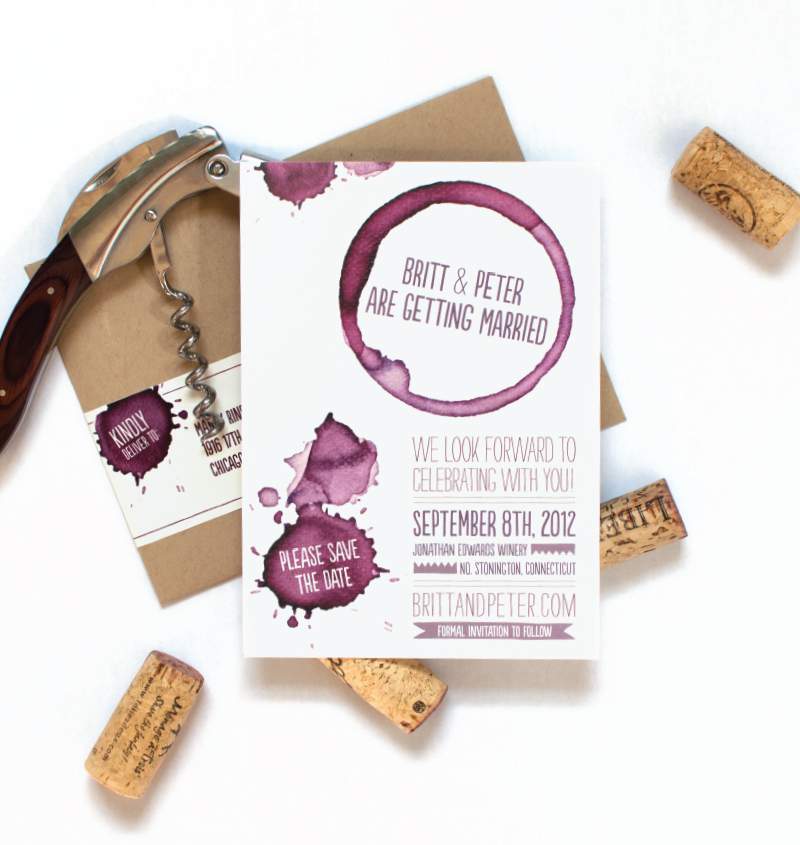 When Britt described her ideal wedding as a "big fun boozy party" I knew we would have some fun with her Save the Dates. For these oenophile's (aka wine lovers!), wine rings and splatters announce their wedding at Jonathan Edwards Winery.